News
Seventh Sense: 32 Marketers on Email Marketing in the Age of Social Distancing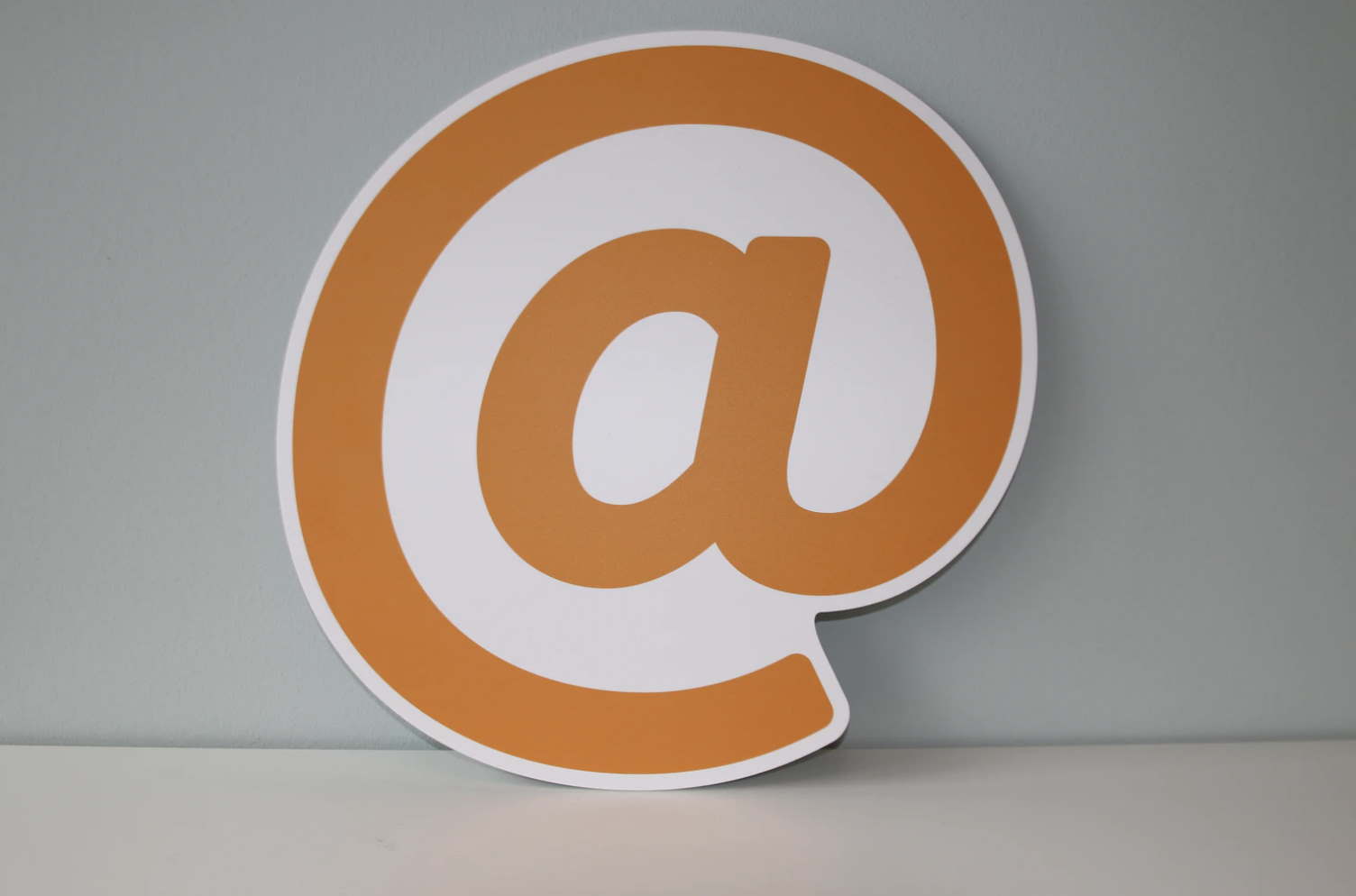 A few weeks ago, we published a quick guide to writing an effective coronavirus email. Unfortunately, it looks like we'll be living with COVID-19 and the disruptions that come with it for a while longer. With that in mind, we wanted to understand how marketers are approaching email marketing in this new time of social distancing.
We asked our audience of marketers, do you plan to invest more, less, or the same in digital lead generation in the next 3-6 months?
The answer was clear, 50% of respondents said they plan to invest more.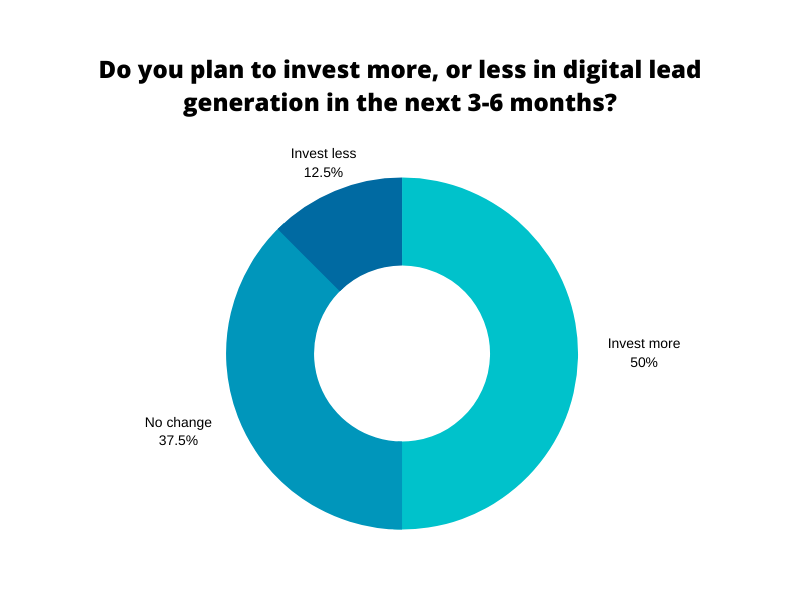 "A lot of our clients rely on in person events or meetings" says Kara Inglis from Nextiny Marketing. "The events that we normally help them promote to their database during this time have all been cancelled."
Many marketers in our panel faced similar challenges, conferences cancelled, retail store fronts shuttered and the list goes on. But new lead generation is expensive and many businesses are already under extreme financial strain. This makes email, one of the few channels you actually own, increasingly appealing.
When asked if they plan to send more email in the coming months almost half of our sample said they plan to send more. Only 12.5% of marketers said they plan to send less email in the near future.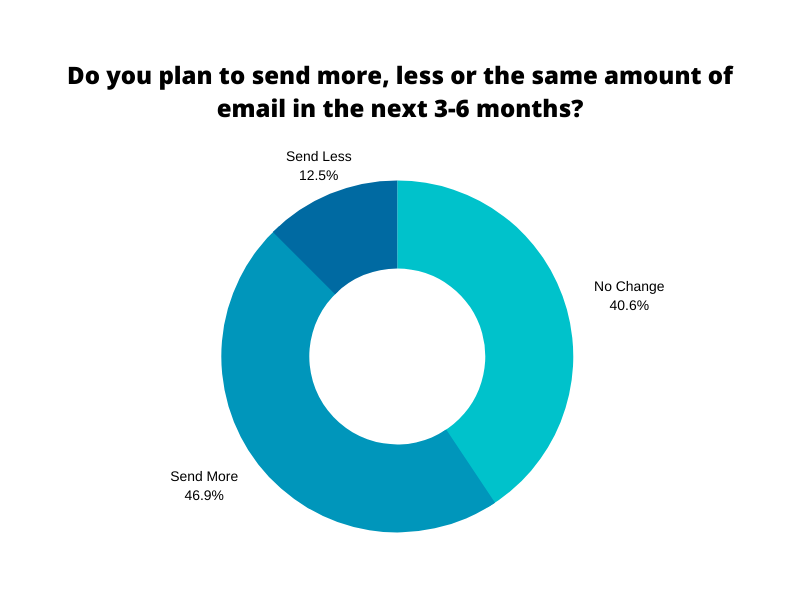 For the 87.5% of marketers planning to continue, or increase email marketing efforts over the next 3-6 months, things are going to be increasingly competitive.
Every other marketer is thinking the same thing: "How can I get more leads/customers with the physical world shut down?"
At the same time, your subscribers lives have likely changed drastically in the last few weeks. Many are working from home, caring for children who are out of school, some have lost jobs, and some may even be sick or caring for someone who is ill. Balancing growing, or even just sustaining your business while also being sensitive to your subscribers is a new challenge for all of us.
To help you navigate this new challenge, we decided to turn to the collective wisdom of the crowd and gather the perspectives of 32 marketers on how they are approaching email marketing during coronavirus. We'd love to hear your thoughts and feedback in the comments.
Let's get started.
Lead with empathy
One of the most common themes we heard from marketers was to focus on empathy.
"We are leading with empathy and authenticity. This is not new but it is more important given the gravity of the crisis" says Bill Peatman from Andela. "We are only sharing messages that we believe will help our partners adapt to the pandemic and its business impacts."
WordStream's Amanda Oles agrees: "We are taking an active approach to pivot our copy to be more empathetic and always acknowledge what is going on in the world. Sticking to the status quo for white papers wasn't successful."
Empathizing with your customers can take a practical tone as well. The key is to think of how customers' situations have changed.
"We've recentered our email and SMS marketing around how the situation has changed customer communication overall, and what some businesses are doing now to stabilize or grow" says MobileMonkey's Larry Kim. "Everything we're doing now is focused on strategies and channels for growth in the current situation because that's what's top of mind."
Jacqueline Basulto of SeedX agrees: "Each company plays a different role in their customer's lives, and our job has been to consider how they can help alleviate the pain people are experiencing while recuperating as much revenue as possible as the market takes a hit."
How are they doing it? "It looks different depending on the company: for a food company, we might encourage people to stock up or try new recipes while at home, for a clothing company it might be a stay at home sale with loungewear, for an event company it might be providing events at home, etc." Basulto says. "We have had to put our thinking caps on to be creative, pivot, and meet people where they are right now."
"It's important during this time that your email subscribers don't feel you're trying to profit from the Coronavirus" says Janice Walk from Mostly Blogging. "Can you still try to profit during the Coronavirus? Yes. It just can't look like you're trying to profit FROM the Coronavirus."